Zoom has a lot of settings you can customize. We joke that one needs to grab a glass of wine before starting scrolling through, and there may be a smidge of truth in it! This post will cover the top settings to know about to help you teach effectively online. Some of these are also great for online events!
To get started, log into Zoom (https://lmula.zoom.us/) and then click on Settings from the left-hand menu. Note that there are three tabs across the top – Meeting, Recording, and Telephone – and each has a smaller side-menu on the left-hand side.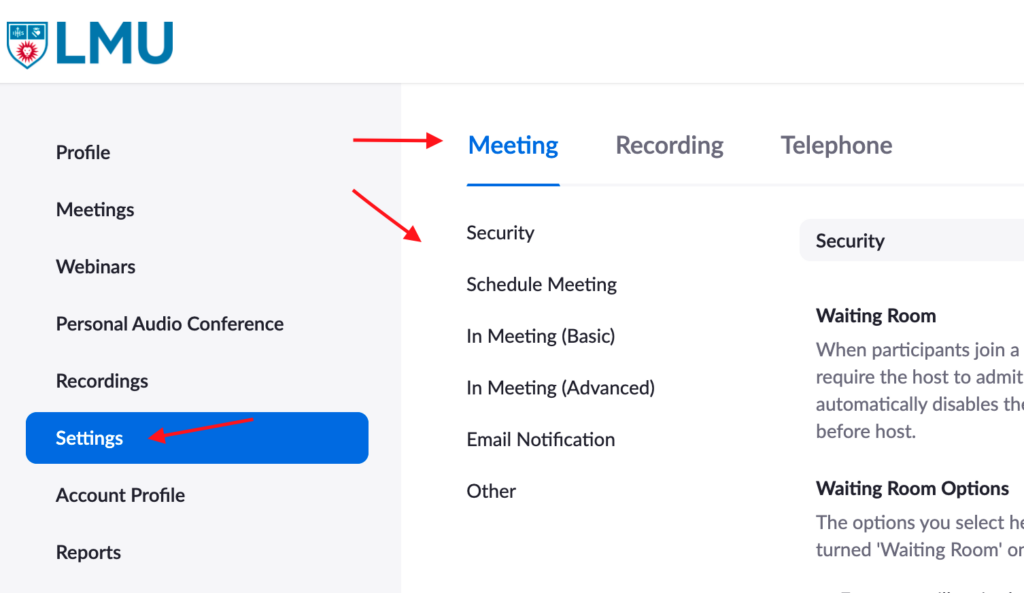 We will be covering settings in the Meeting tab and one setting in the Recording tab:
Waiting Room
Have you turned the Waiting Room on and wondered how folks managed to get in without you letting them in? This is because your Waiting Room settings are on the default – On, but only "Users not in your account" will go to the Waiting Room. This means that anyone signed into their university Zoom account will bypass the Waiting Room. If you want everyone to go to the Waiting Room, then change your options to "Everyone" and click Continue to save.
Note that these settings will apply to all your Zoom meetings going forward. Remember, you can always turn off the Waiting Room once you have joined the meeting as a Host from the Security Shield icon in your meeting menu bar.
Chat
You can find the chat settings under In Meeting (Basic). There are several options, but a common one professors disable is the option for Private Chat. This makes all chat in a meeting public, so you do not have to worry about participants bothering each other without your knowledge. Again, you can change this in-meeting, per-meeting if you do not want to change the default setting here.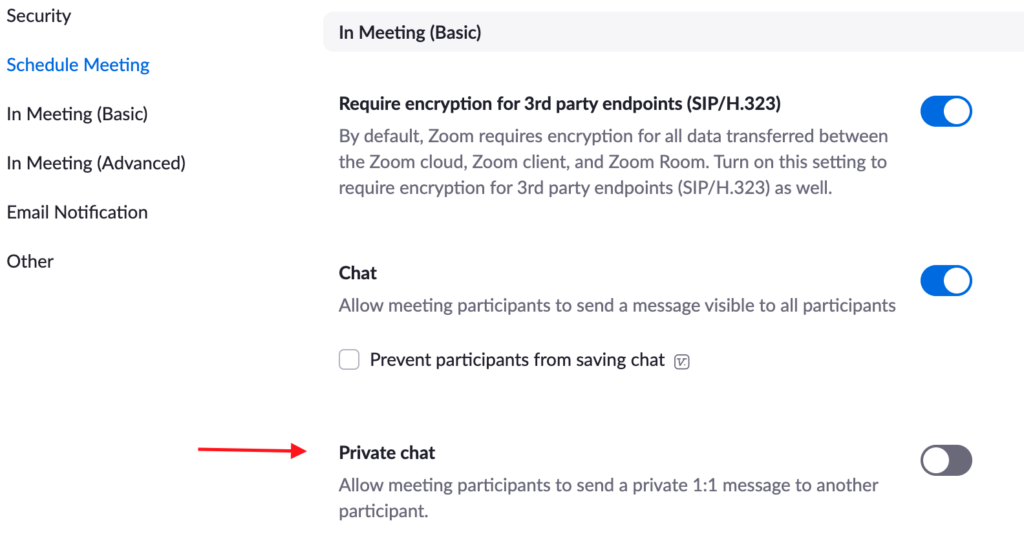 Polling
Scrolling down further under In Meeting (Basic), if you would like to use Zoom's built-in Polling feature, you will need to toggle it on.

Nonverbal Feedback
If you have been in a meeting where the Host asked you to use the Yes, No, Go Slower, etc. buttons for quick-polling, those were nonverbal feedback! To use it in your own meetings, you will need to toggle it on. Right below it is the setting for Meeting reactions, which allows participants to show a quick emoji on their video (e.g. applause, heart, etc.)

Closed Captioning
Scrolling even further, under In Meeting (Advanced), you will find the option for Closed Captioning. Please toggle this on and select the option to "Enable live transcription service to show transcript on the side panel in-meeting".

This will show you the Live Transcript CC button in your Zoom meetings where you can turn on the live transcription.
Email Notification – When a cloud recording is available
The final Meeting setting relates to class recordings. If you do not have this setting enabled (and forgot to add Instructional.Technology@lls.edu as an Alternative Host to your class sessions), then you will need to forward you class recordings to Instructional Tech for processing each time. However, if you turn this setting on, Instructional Tech will receive an email alert when your recording is ready!

Note: Any Alternative Hosts for meetings will receive an alert that a cloud recording is available. This does not apply to local recordings to your machine.

Cloud Recording – Audio Transcript
Last but definitely not least, scroll back to the top of all the settings and switch over to the Recording tab. You will see Local and Cloud recordings are toggled on (if they are not, please toggle them on!), and if you keep scrolling under Advanced cloud recording settings, you will see an option for Audio Transcript. Be sure that box is checked!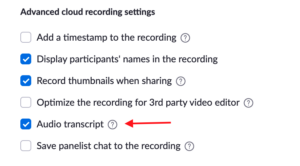 You made it to the end! As you saw, there are even more settings that were not covered here, but these are our top recommendations for making your Zoom experience better while teaching/hosting online. Thanks for hanging in there, and as always, please contact Instructional.Technology@lls.edu with any questions.